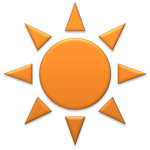 Sun is a weird, playful, friendly contestant that won most of the challenges.
It all Began Appearance
Edit
Sun jumped off the cliff, and got to be team captain. He chose Happy Face, Circle, Scribble, and Heart (In that order) to be on his team. He called his team Weird Love. Then, Sun's team was first to cross the bar and his team was safe for another day.
Sun Has Gone Mad Appearance
Edit
He went crazy at the end of the video. His team placed second.
Racing For Our Lives Appearance
Edit
His team was the only one who actually won the challenge. They won the new contestant Star.
The Octo Race Appearance
Edit
He got stuck on one of the traps in the trap room and sadly lost. He was possessed at the end of the by ____
Spooky Suprises Appearance
Edit
Not out yet.